Training by Visual Editor Consultants
Small Class Size, A Computer for Every Student, Taught by MCNP Experts, Excellent Training Materials for Future Reference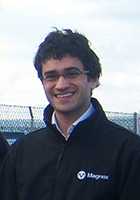 This is a very hands on workshop with plenty of detailed practical examples helping me to progress significantly further than I thought I would in just one week. Much of this progress should be attributed to Randy, the workshop tutor. His teaching style is excellent, the depth of knowledge he has is remarkable and he took the time to clearly explain concepts if they were not understood by all. VisEd is a incredible tool for MCNP users and I would recommended this workshop to anyone wishing to learn more about MCNP/VisEd, regardless of their experience. Thanks Randy for a fantastic workshop!
Ben Mirza
- Magnox, UK,
January 2015
Click Here
for more Testimonials
Welcome to our class archive. Click on the link for each class to see more pictures and testimonials from the students in that class.
Comments and Pictures from Past Visual Editor Training Courses
To see pictures from Intermediate MCNP6® workshops, click here. They are at the bottom of the page.
Intermediate MCNP

® using the

Visual Editor, Richland, WA, August 19-23, 2019
Beginning MCNP

® using the

Visual Editor, Richland, WA, August 12-16, 2019
Advanced Visual Editor with Applications in Mesh Tallies and Variance Reduction., Prague, Czech Republic, July 22-26, 2019
Advanced Visual Editor with Applications in Mesh Tallies and Variance Reduction., Ulsan, South Korea, May 27-31, 2019
Beginning Visual Editor, Richland, WA, April 15-19, 2019
Beginning Visual Editor, Livermore, CA, April 1-5, 2019
Beginning Visual Editor, Ulsan, South Korea, December 17-21, 2018
Beginning Visual Editor, Paris, France, October 15-19, 2018
Click here for class page.
Advanced Visual Editor with Applications in Mesh Tallies and Variance Reduction., Las Vegas, NV, October 1-5, 2018
Beginning Visual Editor, Las Vegas, NV, September 24-28, 2018
Beginning Visual Editor, Richland, WA, August 27-31, 2018
Advanced Visual Editor with Applications in Mesh Tallies and Variance Reduction., Prague, Czech Republic, July 16-20, 2018
Beginning Visual Editor, Las Vegas, NV, May 21-25, 2018
Advanced Visual Editor with Applications in Mesh Tallies and Variance Reduction., Richland, WA, April 16-20, 2018
Beginning Visual Editor, Las Vegas, NV, April 9-13, 2018
Beginning Visual Editor, Paris, France, March 19-23, 2018
Click here for class page.
Intermediate Visual MCNP6® for Shielding Calculations, Barcelona, Spain, February 19-23, 2018
Beginning Visual Editor, Las Vegas, NV, January 8-12, 2018
Beginning Visual Editor, Livermore, CA, November 13-17, 2017
Beginning Visual Editor, Paris, France, October 2-6, 2017
Click here for class page.
No photo
Advanced Visual Editor, Barcelona, Spain, July 10-14, 2017
No photo
Beginning Visual Editor, Barcelona, Spain, June 19-23, 2017
Beginning Visual Editor, Las Vegas, NV, May 15-19, 2017
Beginning Visual Editor, Paris, France, March 27- 31, 2017
Click here for class page.
No photo
Intermediate Visual MCNP6® for Shielding Calculations, Richland, WA January 30 - February 3, 2017
Beginning Visual Editor, Las Vegas, NV, January 2-6, 2017
No photo
Advanced Visual MCNP6® with Applications in Mesh Tallies and Variance Reduction, Las Vegas, NV, September 19-23, 2016
Advanced Visual MCNP6® with Applications in Mesh Tallies and Variance Reduction, Prague, Czech Republic, July-15, 2016
Beginning Visual MCNP6®, Prague, Czech Republic , June 27-July 1, 2016
Intermediate Visual MCNP6® for Medical Physics Calculations, Barcelona, Spain May 30-June 3, 2016
No photo
Intermediate Visual MCNP6® for Criticality Calculations, Barcelona, Spain May 23-27, 2016
Intermediate Visual MCNP6® for Shielding Calculations, Barcelona, Spain May 16-20, 2016
Beginning Visual MCNP6®, Paris, France , April 18-22, 2016
No photo
Advanced Visual MCNP6® with Applications in Mesh Tallies and Variance Reduction, Barcelona, Spain, April 4-8, 2016
Advanced Visual MCNP6® with Applications in Mesh Tallies and Variance Reduction, Las Vegas, NV , March 21-25, 2016
Beginning Visual MCNP6®, Las Vegas, NV, March 14-18, 2016
No photo
Advanced Visual MCNP6® with Applications in Mesh Tallies and Variance Reduction, Aiken, SC, March 7-11, 2016
No photo
Intermediate Visual MCNP6® for Shielding Calculations, Richland, WA February 22-26, 2016
Advanced Visual MCNP6® with Applications in Mesh Tallies and Variance Reduction, Daejeon, South Korea, November 2-6, 2015
Beginning Visual MCNP6®, Paris, France , October 5-9, 2015
Beginning Visual MCNP6®, Las Vegas, NV September 14-18, 2015
No photo
Beginning Visual MCNP6®, Anaheim, CA July 13-17, 2015
No photo
Beginning Visual MCNP6®, Prague, Czech Republic June 15-19, 2015
No photo
Beginning Visual MCNP6®, Barcelona, Spain May 18-22, 2015
Visual MCNP6® for Medical Physics, Richland, WA, April 13-17, 2015
Advanced Visual MCNP6® with Applications in Mesh Tallies and Variance Reduction, Barcelona, Spain March 30 - April 3, 2015
Beginning Visual MCNP6®, Paris, France March 16-20, 2015
No photo
Visual MCNP6® for Shielding Calculations, Richland, WA February 23-27, 2015
No photo
Intermediate Visual MCNP

®

, Richland, WA January 19-23, 2015
No photo
Beginning Visual MCNP

®

, Las Vegas, NV, January 5-9, 2015
No photo
Intermediate Visual MCNP®, Plattsburg, NY, September 8-12, 2014
No photo
Beginning Visual MCNP®, Plattsburg, NY, September 2-5, 2014
Intermediate Visual MCNP®, Orlando, FL, August 18-22, 2014
Beginning Visual MCNP®, Orlando, FL, August 11-15, 2014
Intermediate Visual MCNP®, Barcelona, Spain, June 30-July 4, 2014
Intermediate Visual MCNP®, Las Vegas, NV, April 21-25, 2014
Click here for more information.
Beginning Visual MCNP®, Las Vegas, NV, April 14-18, 2014
Click here for more information.
Beginning Visual MCNP®, Paris, France, March 24-28, 2014
Click here for more information.
Intermediate Visual MCNP®, Barcelona, Spain, March 17-21, 2014
Click Here for more information


No Photograph
Intermediate Visual MCNP®, Richland, WA, January 20-24, 2014
Beginning Visual MCNP®, Las Vegas, NV, January 6-10, 2014
Click here for more information
Introduction to MCNP® using the MCNPX® Visual Editor, Barcelona, Spain, November 4-8, 2013
Click here for more information
Intermediate MCNPX® Visual Editor with a special emphasis on tallies and variance reduction, Myrtle Beach, SC, September 23-27, 2013
Click here for more information
Advanced MCNP® Visual Editor with emphasis on solving user problems, Myrtle Beach, SC, September 3-6, 2013.
Click here for more information
Intermediate MCNPX® Visual Editor with a special emphasis on tallies and variance reduction, Las Vegas, NV, August 26-30, 2013
Click here for more information


Introduction to MCNP® using the MCNPX® Visual Editor, Las Vegas, NV, August 19-23, 2013
Click here for more information
No Photographs
Introduction to MCNP® using the MCNPX® Visual Editor, Richland, WA, July 15-19, 2013
Intermediate MCNPX® Visual Editor with a special emphasis on tallies and variance reduction, Barcelona, Spain, June 24-28, 2013
Click here for more information
Introduction to MCNP® using the MCNPX® Visual Editor, Barcelona, Spain, June 10-14, 2013
Click here for more information
No Photographs
Intermediate MCNPX® Visual Editor with a special emphasis on tallies and variance reduction, San Antonio, TX, April 22-26, 2013
Introduction to MCNP® using the MCNPX® Visual Editor, Washington DC, April 8-12, 2013
Click here for more information
Introduction to MCNP® using the MCNPX® Visual Editor, Paris, France, March 4-8, 2013
Click here for more information
Introduction to MCNP® using the MCNPX® Visual Editor, Livermore, CA, January 7-11, 2013
Click here for more information
Introduction to MCNP® using the MCNPX® Visual Editor, Las Vegas, NV, January, 2013
Click here for more information
No Photographs
Intermediate MCNPX® Visual Editor with a special emphasis on tallies and variance reduction, Anaheim, CA, November 12-16, 2012
Introduction to MCNP® using the MCNPX® Visual Editor, Las Vegas, NV, November 5-9, 2012
Click here for more information
No Photographs
Introduction to MCNP® using the MCNPX® Visual Editor, Paris, France, October 15-19, 2012
Custom Onsite Class, Richmond, VA, October 1-5, 2012
Click here for more information
Intermediate MCNPX® Visual Editor with a special emphasis on tallies and variance reduction, Myrtle Beach, SC, September 17-21, 2012
Click here for more information
Introduction to MCNP® using the MCNPX® Visual Editor, Myrtle Beach, SC, September 10-14, 2012
Click here for more information
Introduction to MCNP® using the MCNPX® Visual Editor, Albuquerque, NM, August 27-31, 2012
Click here for more information
Intermediate MCNPX® Visual Editor with a special emphasis on tallies and variance reduction, Livermore, CA August 6-10, 2012
Click here for more information
Introduction to MCNP® using the MCNPX® Visual Editor, Anaheim, CA July 23-27, 2012
Click here for more information.
Introduction to MCNP® using the MCNPX® Visual Editor, Pleasanton, CA July 16-20, 2012
Click here for more information.
Intermediate MCNPX® Visual Editor with a special emphasis on tallies and variance reduction, Newcastle, UK June 18-22, 2012
Introduction to MCNP® using the MCNPX® Visual Editor, Newcastle, UK June 11-15, 2012
Click here for more information
Introduction to MCNP® using the MCNPX® Visual Editor, Richland, WA May 21-25, 2012
Click here for more information
Intermediate MCNPX® Visual Editor with a special emphasis on tallies and variance reduction, Las Vegas, NV, April 23-27, 2012
Click here for more information
Introduction to MCNP® using the MCNPX® Visual Editor, Las Vegas, NV April 16-20, 2012
Click here for more information
Introduction to MCNP® using the MCNPX® Visual Editor, Paris, France, February 20-24, 2012
Click here for more information.
Intermediate MCNP® Visual Editor with a special emphasis on tallies and variance reduction., Richland, WA, February 6-10, 2012
Click here for more information
Introduction to MCNP® using the MCNPX® Visual Editor, Las Vegas, NV, January 16-20, 2012
Click here for more information

Introduction to MCNP® using the MCNPX® Visual Editor, London, UK, November 14-18, 2011
Click here for more information
Intermediate MCNP® Visual Editor with a special emphasis on tallies and variance reduction., Las Vegas, NV, October 24-28, 2011
Click here for more information
Introduction to MCNP® using the MCNPX® Visual Editor, Las Vegas, NV, October 17-21, 2011
Click here for more information
Intermediate MCNP® Visual Editor with a special emphasis on tallies and variance reduction., Myrtle Beach, SC, September 19-23, 2011
Click here for more information
Introduction to MCNP® using the MCNPX® Visual Editor, Myrtle Beach, SC, September 12-16, 2011
Click here for more information
Introduction to MCNP® using the MCNPX® Visual Editor, Seattle, WA, August 8-12, 2011
Intermediate MCNP® Visual Editor with a special emphasis on tallies and variance reduction., Anaheim, CA, June 13-17, 2011
Click here for more information
Introduction to MCNP® using the MCNPX® Visual Editor, Anaheim, CA, June 6-11, 2011
Click here for more information
Intermediate MCNP® Visual Editor with a special emphasis on tallies and variance reduction., Oak Ridge, TN, May 23-27, 2011
Click here for more information
Introduction to MCNP® using the MCNPX® Visual Editor, Richland, WA, May 16-20, 2011
Click here for more information
Intermediate MCNPX® Visual Editor with special emphasis on tallies and variance reduction, Las Vegas NV, April 18-22, 2011
Click here for more information
Introduction to MCNP® using the MCNPX® Visual Editor, Las Vegas, NV, April 11-15, 2011
Click here for more information
Introduction to MCNP® using the MCNPX® Visual Editor, London, UK, March 7-11, 2011
Click here for more information
Intermediate MCNP® Visual Editor with a special emphasis on tallies and variance reduction, Seattle, WA, January 31-February 4, 2011
Click here for more information
Introduction to MCNP® using the MCNPX® Visual Editor, Seattle, WA, USA, January 24-28, 2011
Click here for more information
Classes Taught 2009-2010
Click here for classes taught 2009-2010
Classes taught 2007-2008
Click here for classes taught between 2007 and 2008
Classes taught 2001-2006
Click here to see classes taught from 2001-2006