Training by Visual Editor Consultants
Small Class Size, A Computer for Every Student, Taught by MCNP Experts, Excellent Training Materials for Future Reference
---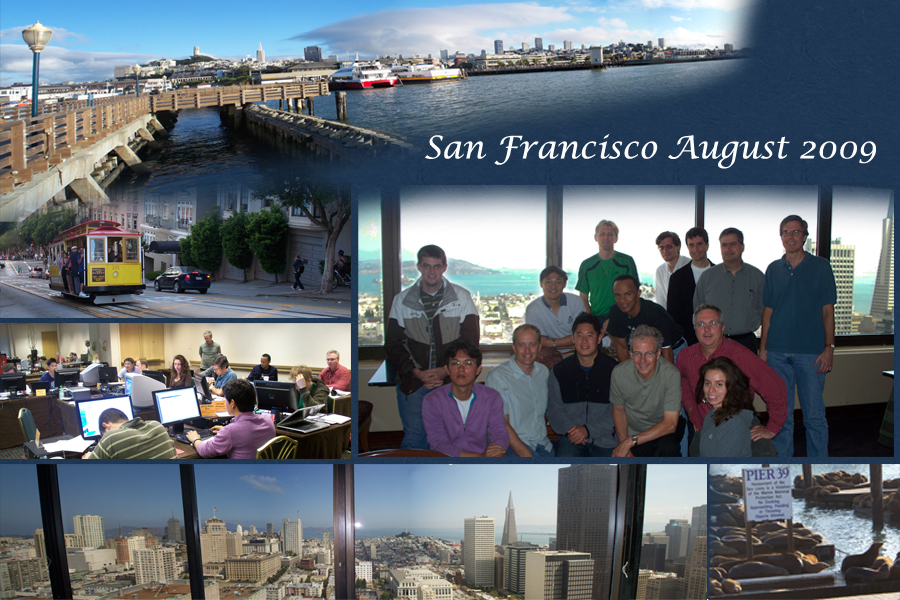 August 3-7, 2009
In the picture at the top, from top left going counter-clockwise:

A view of the shore from a dock at the warf.
A cable car on a street near the hotel.
A view of the classroom setup
The view from a window of the host hotel where the class was held.
Many sea lions at Pier 39 with a warning sign that they must not be harassed.
Click the photo above for an enlarged view.
1. Corey Freeman - LANL
2. Dong Hoon Shin - Korea Institue of Nuclear Nonproliferation and Control
3.Craig Kruschwitz - National Security Technologies, LLC
4. Ming Wu - National Security Technologies, LLC
5. Michael J. King - Rapiscan Systems
6. Arnold Pompos - University of Texas Southwestern
7. John S. Hendrix - Instructor
8. Stephen E. Mitchell - Remote Sensing Laboratory
9. Vladimir Mozin - UC Berkeley
10. Michael Speiser - University of Texas Southwestern
11. Paul Guss - Remote Sensing Laboratory
12. Marcus Schildbach - LLNL
13. James Clayton - Varian Medical Systems
14. Sarah McKenney - University of California, Davis